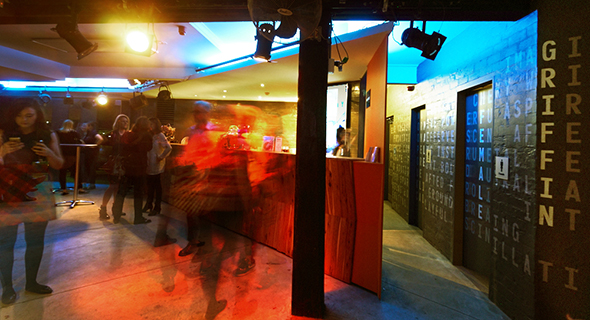 Capital Appeal
You might have noticed we've had some work done.

In 2010, we teamed up with Tonkin Zulaikha Greer to give the SBW Stables Theatre a well-earned renovation. The Stables foyer has had a much needed facelift and 2011 saw work start on the auditorium, including a re-fit to the theatre itself, making the seating much more comfortable and improving backstage spaces, making the lives of our hardworking stage managers and actors easier.
Tonkin Zulaikha Greer have considerable experience working on historically and culturally significant sites and when it came to renovating the stables, their clear vision and generosity as a major sponsor ensured the success of the project.
We will always be grateful to our Capital Donors who made it all possible:
Beam ($120,000)
Seaborn, Broughton & Walford Foundation
Pillar ($45,000)
Bluptons
Tonkin Zulaikha Greer
Ros Horin & Joe Skrzynski
Rockend Technology Pty Ltd
ArtsNSW
Rebel Penfold-Russell
Kim Williams
Step ($15,000)
Antoinette Albert
Charmaine & Michael Bradley
Lewin Family
Nick Marchand & Nathan Bennett
Ezekiel Solomon
Stuart Thomas
Townsend Family
Brick ($3,000)
Gillian Appleton
Baker & McKenzie
John Bell & Anna Volska
Gina Bowman, Sally Noonan & Mark Sutcliffe
BOSE
Jo Briscoe & Brenna Hobson
Rob Brookman & Verity Laughton
Bob & Helena Carr
Ange Cecco & Melanie Bienemann
Rae & Russ Cottle
Glyn Cryer
Alison Deans & Kevin Powell
David Farley
Nicki Bloom & Geordie Brookman
Richard Glover
Peter Graves, Canberra
Maurice Green AM & Christina Green
The Griffins – Allie, Bel, Jas & Jen
Larry & Tina Grumley
Baly Douglass Foundation
Mary & John Holt
Ken & Lilian Horler
The Actors' Centre
Chris Jackman
Currency Press
Peter, Angela & Piper Keel
Brett Boardman & Lee Lewis
Lisa Mann Creative Management
Wendy McCarthy AO
Sophie McCarthy & Tony Green
Bruce Meagher & Greg Waters
Dianne O'Connell
Peter O'Connell
Debra Oswald
Ian Phipps
Peace of Mind Technology
Celina Pront
Joel Pront
Chris Puplick AM
Annabel Ritchie
Chris & Fran Roberts
Ian Robertson
Mike Robinson
Signwave Newtown
Cre8ion
Will Sheehan
Kate & David Sheppard
Diana Simmonds
Smith & Jones
Chris Tooher & Rebecca Tinning
Current as at 21st February 2012